Daniel J. Hoff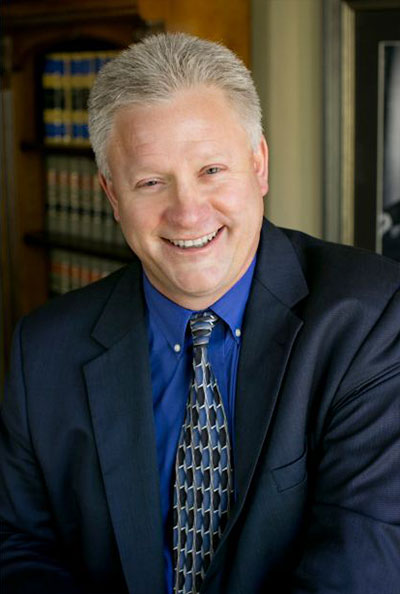 Practice Areas
Dan has been a practicing trial attorney for almost thirty years. He is well known throughout the legal community for his experience in these areas. He routinely carries a large caseload and aggressively represents his clients.
Dan has always been actively involved in the community. He coached the St. Joseph's Middle School football team since its inception in 2002 through 2013. In 1999, his firm won the State Bar Pro Bono Law Firm of the Year for legal assistance to the community.
Before going into solo practice in 2008, he was a nineteen year member shareholder of the law firm of Glenn, Hoff & Hoff, S.C. He was formerly the president of the Outagamie County Bar Association from 2002-2003, and was the vice president in 2002. He was also an Assistant Corporation Counsel for Outagamie County, handling child support, Chapter 55 (protective services), Chapter 51 (mental health), prosecution of citations, tax foreclosures, and other corporation counsel matters. Dan has been appointed by the Outagamie County Circuit judges to act as interim court commissioner during vacancies and family leave. In this capacity, he presided over bond hearings, intakes, small claims trials, and motions.
Dan is a faculty member of the National Business Institute. He gives multi-state seminars regarding family law topics.
In September 2013, Senator Mike Ellis appointed Dan to the Wisconsin Access to Justice Commission, whose mission is to develop and encourage means of expanding access to the civil justice system for unrepresented low-income Wisconsin residents.
Also in 2013, Dan was awarded membership in the Pro Bono Honor Society for providing at least fifty hours of pro bono legal services to benefit low income Wisconsin residents.
In the fall of 2017, Dan was named as a board member and president of the Fox Cities Victim Crisis Response Team which is a regional not-for-profit utilizing trained volunteers to provide crime victims and their families with crisis intervention services.
As Senior Partner of the law firm he has stressed the "team approach" to the practice of law and the involvement of the law firm in giving back to the community. Call us today to schedule a free consultation with Attorney Hoff.
Professional Background
Nineteen year member and shareholder of the law firm of Glenn, Hoff & Hoff, S.C.
President of the Outagamie County Bar Association, 2002-2003, Vice President in 2002
Chairman of the Outagamie Commissioners of Condemnation 1982 to present
Past Assistant Corporation Counsel for Outagamie County
Interim Judicial Court Commissioner
Board Member of the State of Wisconsin Access to Justice Commission
Pro Bono Honor Society
President of the Fox Cities Victim Crime Response Team
Faculty Presenter for National Business Institute
President of Fox Cities Title Company
Admitted to Practice
State Bar of Wisconsin
U.S. District Court – Eastern District of Wisconsin
U.S. District Court – Western District of Wisconsin
Professional Associations
State Bar of Wisconsin since 1988
American Bar Association since 1988
Wisconsin Academy of Trial Lawyers since 1990
Outagamie County Bar Association
Waupaca County Bar Association
Education
University of Wisconsin Law School, J.D., 1988
University of Minnesota, B.A. Economics, Phi Beta Kappa, 1985
Stevens Point Area Senior High, Honors Graduate, 1981