Our Family Law issues include: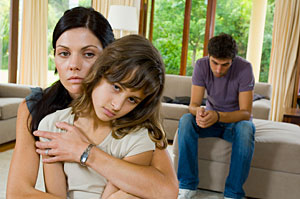 Child Custody / Placement Attorney
When you are going through a divorce or legal separation, the legal custody and physical placement of your children is one of the most important issues. Child custody and placement issues can arise in divorce cases, post-divorce cases, and paternity cases. Paternity cases are those where a child's parents were never married but still need to resolve custody and placement issues.
At Hoff, Bushaw & Matuszak, we understand that the well-being of your children is your most prominent concern and we will work to find the best solution for your situation. In a divorce, post-divorce, or paternity case, the court will determine who will have legal custody and physical placement of your children.
Legal custody involves the right to make major life decisions for your children, including those regarding education, religion, and medical care. In Wisconsin, the court will presume that both parents should be granted legal custody of the children unless there is a legal basis to deny it to one parent.
Physical placement involves whether your child is physically with one parent or another. If you are going through a divorce, the court will make a decision regarding you children's physical placement at the end of your case. In a post-divorce or paternity case, the court can enter a separate order addressing these issues.
We know that you do not want your children to get caught in the middle of your divorce, so we are very sensitive to their needs. If you have any questions, please contact us to set up a free initial consultation. Attorney Daniel J. Hoff,and Attorney Amy L. Matuszak will be more than happy to meet with you to discuss your situation.
Providing legal services to clients throughout Northeast Wisconsin - Green Bay, Appleton, Oshkosh and all areas in-between.